[Lecturing] is tradition. It was part of my training, and seems like what I should be doing. I feel somehow guilty when I am not lecturing"

– One professor's response when asked why he lectures (qtd. in Bonwell and Eison 7).
I'll be the first to admit that when I first started teaching, this quotation above could have been from me. I spent years in classes and seminars with professors in their sharp-looking corduroy coats with patches on the elbows, who spent hours talking at us as we furiously scribbled down every third word. So, naturally, when I started teaching, I assumed I should do the same. Sure, I peppered in some group work and discussions, but mainly it was a "Here's what I know, now listen and learn" type of class.
FORTUNATELY, a few years into teaching, one of my colleagues staged a "lecture intervention" on me and introduced me to a variety of active learning techniques: some from reading apprenticeship workshops, and some from acceleration workshops, all of which were very exciting, but also a bit overwhelming at the time. These new strategies and techniques forced me to reassess how I thought about learning and what it should look like. Over time, and after much trial and error, these once unfamiliar and overwhelming techniques became the norm in my classes, and I found myself automatically planning for what students would DO in the classroom rather than just what they would learn.
The test of a good teacher…is, 'Do you regard "learning" as a noun or a verb?'

qtd. in Bonwell and Eison 10
I think we can all agree that learning cannot be defined as a passive activity. Therefore, we cannot teach our classes using what Paulo Freire describes as the "banking" method of education: students are receptacles waiting for us to open up their brains and deposit knowledge. To illustrate this idea of passive learning to my students, I'll often compare it to a scene in The Matrix. The classroom exchange usually goes something like this:
So, my friends, we are not passive learners. We cannot learn how to write in the same way Neo learns how to do kung fu in The Matrix.
After noticing a large number of blank stares, I'll realize that many of them were born after the release of this film, and I'll further elaborate on this example (all while trying to hide my utter shock and disappointment).
Well, what happens is a wire gets shoved into the back of Neo's brain, information is uploaded and, voila! Neo awakens and confidently claims: "I know kung fu." Nice.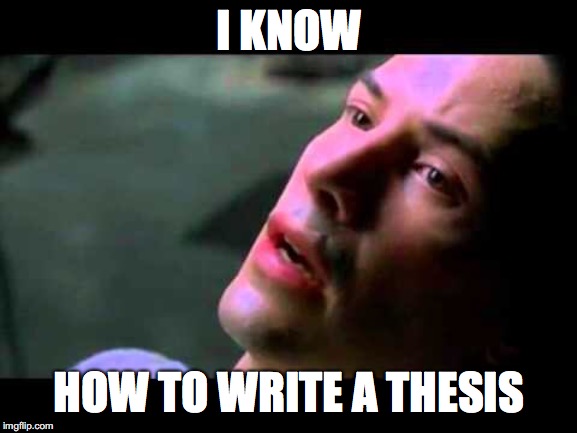 Unfortunately, our brains do not work that way. We cannot learn through osmosis and Apple has yet to release "iBrain" technology that uploads knowledge directly into our brains; I mean, we're at least 5 years away from that…
So in the meantime, in order to help our students learn what we want them to learn in our classrooms, we must engage them in an active process that not only provides them with knowledge and skills, but allows them to practice this in relevant ways. Freire argues that it is not enough to just gain knowledge. We must also be able to collaborate with others to think critically about our world and how we can act upon it — essentially, how we can DO something with what we have learned.
Thus, an active learning environment encourages this collaboration while also inviting a diversity of ideas through activities like small and full class discussions, presentations, and Socratic seminars. Cathy Davidson mentions that "structuring a way where everyone in the room has a voice and has an opportunity to register an idea, is by far the most effective way to avoid 'group think.'"
There are a variety of ways to create an active learning environment that I think will fit any number of learning and teaching styles, room limitations, class sizes, or other variables. I hope that throughout this month in this blog and later at our meeting on September 27, we will be able to share some of the strategies we are using to engage our students in the learning process. I also hope we can address any questions or concerns you may have about using active learning techniques in your classes. As you brainstorm some ideas and evaluate what you already do to create an active learning environment, keep in mind some general characteristics of an active learning classroom outlined by Bonwell and Eison:
Students are involved in more than listening
Less emphasis is placed on transmitting information and more on developing students' skills.
Students are involved in higher-order thinking (analysis, synthesis, evaluation)
Students are engaged in activities (e.g. reading, discussing, writing)
Greater emphasis is placed on students' exploration of their own attitudes and values
Anything that involves students in doing things and thinking about the things they are doing. (2)
If you haven't read Cathy Davidson's "Active Learning" blog post, check that out as soon as you can. It's a quick read and will give you a general overview of what active learning is and how it can look in the classroom. If you'd like some additional resources, I also recommend the following texts:
Let's start the discussion here! If you could, take a few moments to leave a comment (after the jump!) responding to any of the questions below. Feel free to add information and links to any resources, activities, and assignments you are currently using.
Can you share a story of a student's success (or multiple student successes) after using active learning strategies? What was the strategy? Why do you think it worked so well?
What is one of your own "go-to" active learning strategies you use in your classes? Why is this your "go-to"?
What questions or concerns do you have about using active learning strategies in the classroom?
Thanks so much to everyone who was able to come to our meeting last Friday! Below are the wonderful posters you all created. I've also linked the "Active Learning Strategies" handout I distributed that day and the Google slides for anyone who wasn't able to make it.